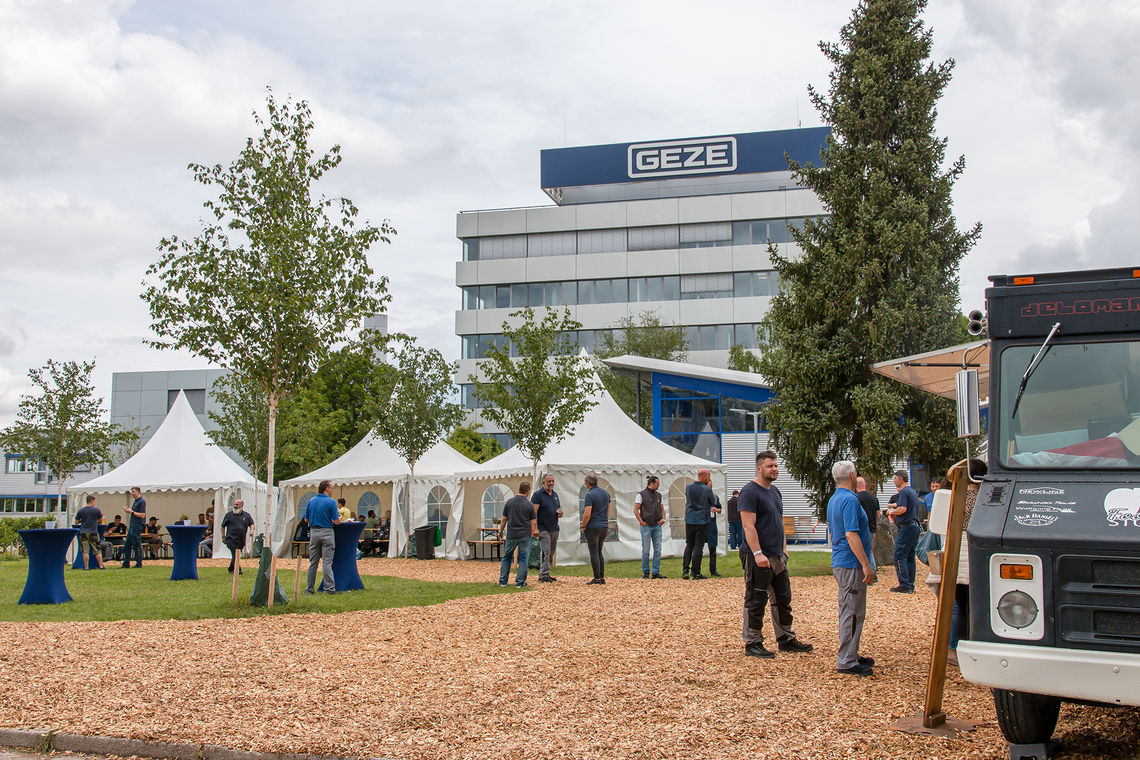 Stronger together: Events are bringing teams together again at GEZE
Over the past two years, many of the teams in our departments worked in unfamiliar constellations: mobile working offered, and continues to offer, many advantages – but we all missed the interaction. We are now hosting various events in a bid to bring our teams closer together again. Like our team of apprentices who met in Leonberg for a barbecue and a joint outdoor workshop.
Making togetherness a reality again
During the course of the pandemic, we realised: There's a lot we can take care of alone. But as the months passed, there was a threat of something being lost and it wasn't easy to express what: some say it was the glue between colleagues, others call it social togetherness. It's that certain something that comes from daily exchange in the office, or spontaneous brainstorming in the kitchen. We have for some time been embracing a hybrid way of working at GEZE, meaning a blend of working in the office and the possibility of working remotely. To strengthen the social factors of working together, we enable our departments to come closer together again with team-building events. The departments have plenty of freedom when it comes to designing these events. From a joint cooking class to GEO caching, a backstage tour at a musical, a crime dinner or a Segway tour, anything goes. And now that some of the departments have shared experiences, we know that these team events are a real success, and that employees are taking great delight in getting together again with no restrictions.
Some work and lots of fun with the young professionals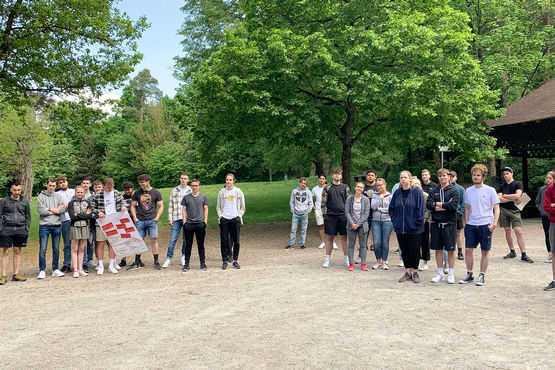 Young professionals from GEZE © GEZE GmbH
In May, our junior staff met at the Engelbergwiese in Leonberg – a large city park that boasts a range of leisure facilities. Many of them had not met often, or were getting together in person for the first time following a period of university lectures taking place only digitally, for example. Everyone was of course very excited. To fortify themselves for the scheduled programme, the group of around 40 participants started the day by enjoying breakfast together. Fresh pretzels and drinks were served at the Engelberg hut, which had been rented especially for the event. After initial discussions, the day's programme began with a workshop on the topic of "Training for the Future". This involved the trainers giving brief insights into five different topics, such as the topic of training marketing. The apprentices then worked in small groups on questions related to these topics, and presented their results to the whole group. A good exercise in team spirit and personal presentation skills.
In general, I found it interesting to talk to people who are doing their apprenticeship in completely different areas than me. A further highlight of the event for me was that we got access to the Engelberg Tower – the view from the top across the city and the countryside was amazing.
First-year mechatronics apprentice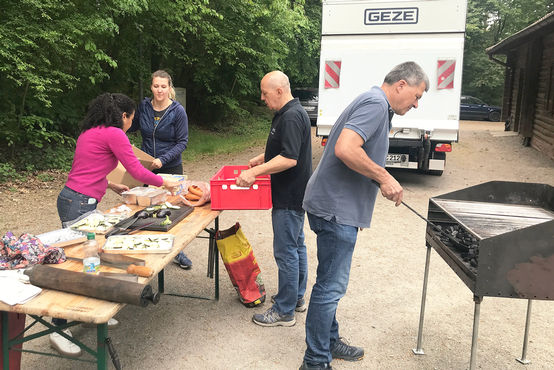 The grill is being heated up © GEZE GmbH
Overcoming challenges together
While some colleagues were still chatting about their workshop results, the barbecue was being fired up. From 11:30 a.m. onwards, they could start preparing lunch together: as well as sausages, there were various grilled vegetables to cater to all tastes and preferences. Well fortified, our junior staff then went into the team challenge in the afternoon. This challenge involved them having fun taking each other on in various games A colourful mix of tasks of skill and puzzling things out guaranteed fun, laughter and excitement, rewarded with an ice cream for everyone at the end.
A wonderful day at the Engelbergwiese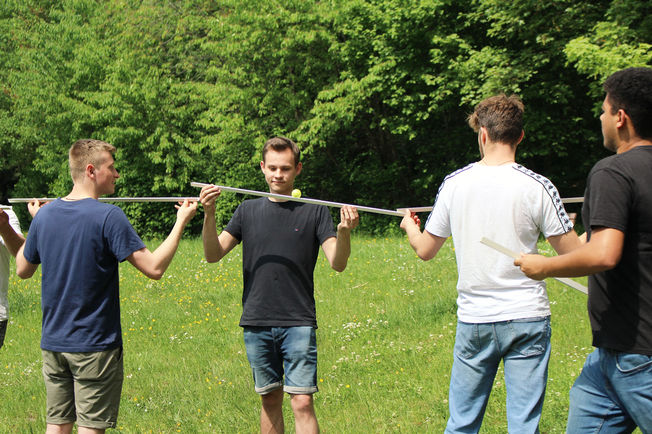 Young Professionals Event
Of course, fun was not neglected during the Team Challenge. © GEZE GmbH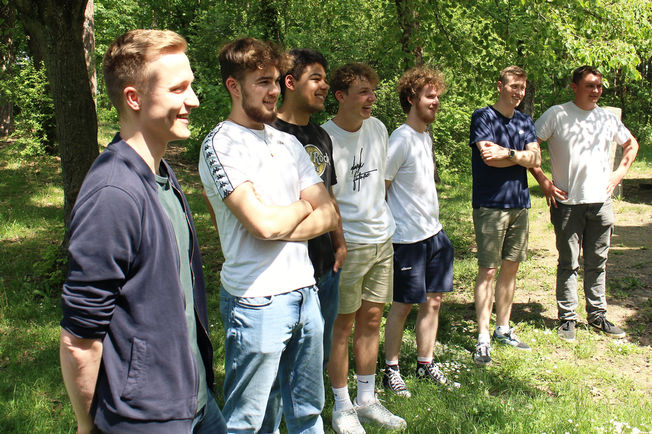 Young Professionals Event
The excitement for the Team Challenge was hard to miss on their faces. © GEZE GmbH
Team Challenge
The next steps are discussed in groups. © GEZE GmbH
Team Challenge
A colourful mixture of skill and puzzle tasks. © GEZE GmbH
Prospects
In between, the view over Leonberg and the surrounding area could also be enjoyed from the Engelberg. © GEZE GmbH
Work comes before pleasure
Workshop on the topic of "Training of the Future". © GEZE GmbH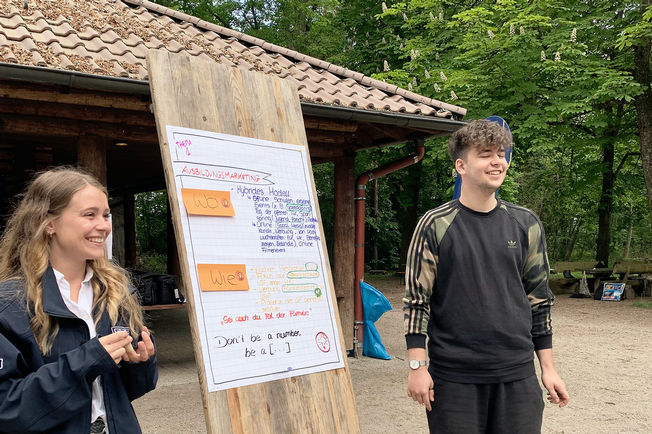 Workshop
The workshop is also a lot of fun. © GEZE GmbH
BBQ for the employees from the Production and Logistics departments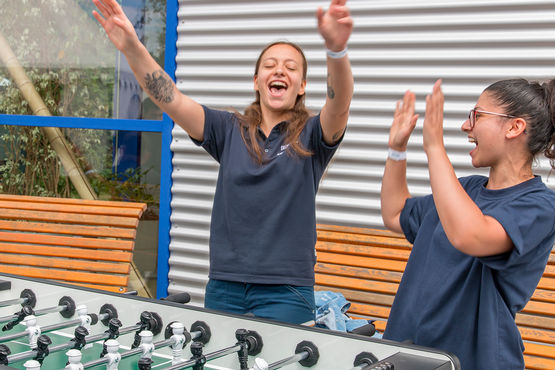 Pure passion in exciting table football duels © GEZE GmbH
Team events should also be made possible for the Production and Logistics departments. Due to factors such as shift operation and the wish to keep the production running, the decision was made to hold a BBQ at the Leonberg headquarters. In beautiful sunshine, delicious grilled specialities such as pulled pork, BBQ sandwiches and sausages were offered in the food trucks and tents installed especially for the occasion. Cold drinks were a welcome refreshment after exciting table football or table tennis duels. Here, too, it was obvious that employees were very glad to get together again without restrictions.
Taste adventures, fun at games and many happy faces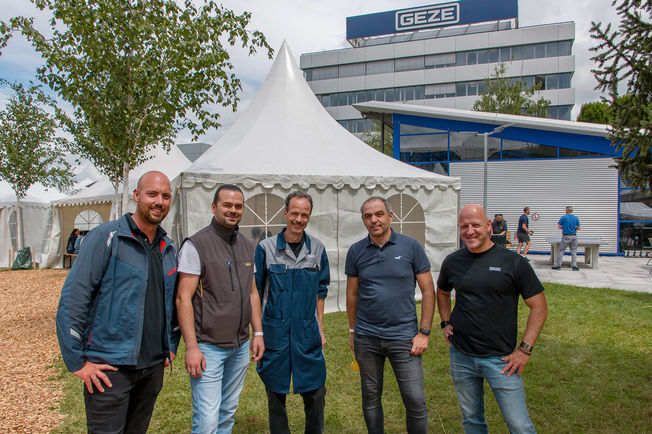 Barbecue event on the factory site
Looking forward to time together away from the workplace. © GEZE GmbH
Smiling faces
The joy about the team event is unmistakable. © GEZE GmbH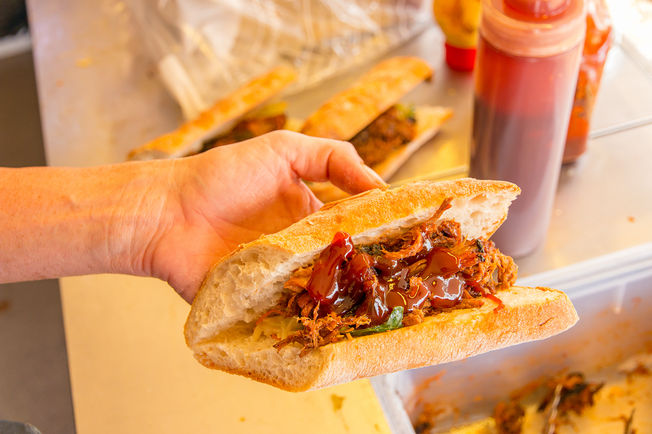 Delicious food
Among other things, there were delicious BBQ sandwiches with pulled pork. Vegetarians were also catered for with a vegetarian alternative. © GEZE GmbH
Foodtruck provides for the physical well-being
Freshly prepared sandwiches or bratwursts supply the staff. © GEZE GmbH
A big crowd at the food truck
Good conversations and duels at the table football obviously make you hungry. © GEZE GmbH
Sausages from the barbecue
The smell of freshly roasted sausages from the grill attracts the staff. © GEZE GmbH