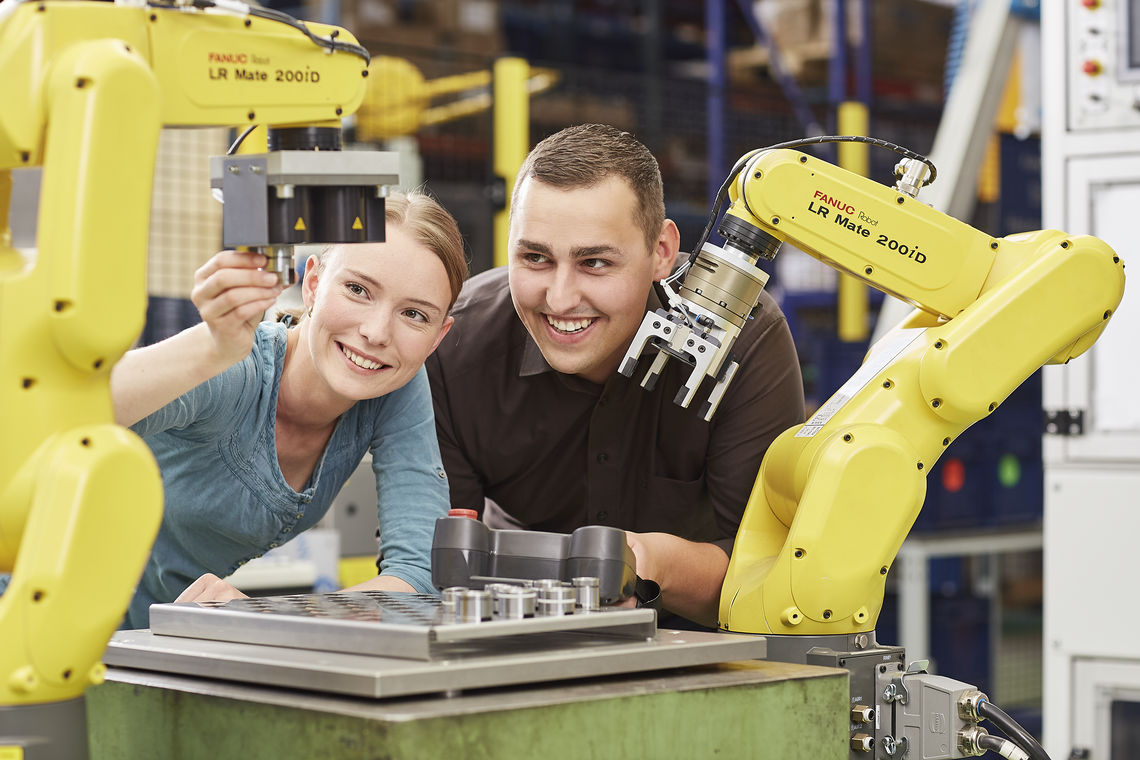 Diverse and future-proof – industrial apprenticeship with GEZE
Anything but ordinary: whether you're training to become a mechatronics engineer, industrial mechanic, construction mechanic or machine and plant operator - we turn our apprentices' studies time into a practical and unforgettable experience. This includes state-of-the-art workplaces, exciting projects and a wide range of events. However, where we score highest is our familiar environment, individual promotion and fantastic colleagues who look forward to passing on their special knowledge.
Concrete practical teamwork from the outset
We want our apprentices to be able to identify with our products and solutions. That's why all apprentices are given the same introduction to our products right from the beginning. Not only do they get to know our products more clearly, they also grow together as a team. "In the first few weeks, our apprentices all have very similar tasks. We use this time to build a team. Our apprentices work hand-in-hand - and everyone helps each other. Because in our experience, learning and understanding works so much better this way, rather than having everything coming from above. It's important that the apprentices have the opportunity to ask questions at any time, and try everything out in concrete terms," says head of vocational training Rolf Böhmler. All our courses combine the same degree of practical training, with on average one day of school for every four days at work.
What I especially like here is the great familiar atmosphere. Everyone genuinely welcomes and appreciates me here It's so different from large corporations where even apprentices 'elbow their way to the top'.
Mechatronics apprentice in 3rd year of training
The GEZE training workshop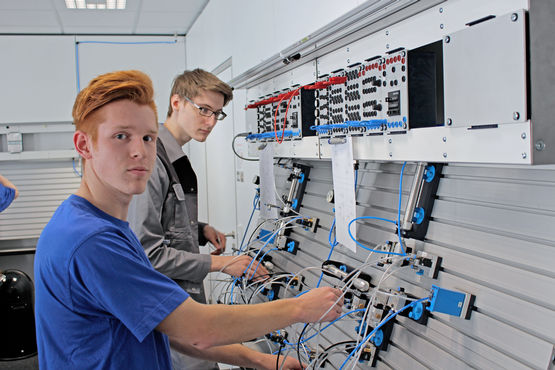 Practical exercises in the fundamentals of control technology.
The GEZE training workshop acts as a centre point for the first two years of training. Our junior employees learn how to deal with the most important machines and work on their own projects here. In recent years, we have renewed almost all our technical equipment for our apprentices. We have invested around €500,000 on this over the last business year alone. And this is also reflected in our training workshop: high-quality tool machines, state-of-the-art robots, 3D printers, welding simulators and a flexible 5-axis machining centre in the CNC area - our apprentices have plenty to draw on. The school provides the necessary basic theory to support the practical experience side.
Even in the first year, our apprentices work on real business assignments which are genuinely needed. That's what we mean by practical training. We do not give our apprentices 'pretend' assignments which only end up gathering dust in the corner.
Mechanics head of trainers
Real business assignments …
In the second year of training, our apprentices are given an early opportunity to work with CNC-controlled tool machines and real business assignments and components. This usually involves small-scale production or fulfilling special requests from our customers. For example, our mechatronics engineers produced a special access control system based on a technical drawing by our development engineer. In another project our mechatronics engineers were tasked with motorising a new test stand. The challenge consisted of enabling equal movements and adjustable speeds, thereby creating better measurement conditions.
… and the GEZE learning stations
A special feature of our training is the GEZE learning stations. The entire production process is broken down here into smaller pieces (stations) where from the third year of training, our up-and-coming specialists receive intensive training and support from 'mentors' . For example, at the 'casing production' station, they not only learn the hard facts about material qualities and precision tools, but also learn about everything that goes with the process, such as quality assurance, surface treatment and further processing. This gives our apprentices an all-round view of the entire production process, and many of them learn about their own preferences and ambitions here as well. "The great thing about it is that our apprentices don't just focus on the product, they become familiar with other interfaces as well, such as shipping and logistics or production control," says Rolf Böhmler. "In many cases, our apprentices have found new careers which have little to do with their original training, because we can really focus on our apprentices skills and preferences."
Exciting projects and team building
As well as daily challenges, the training period at GEZE offers a wealth of special project highlights. It is very important to us that our younger employees have the chance to suggest and then implement their own ideas. The portfolio of apprentice projects ranges from equipping a trailer together with young helpers at the local THW, developing and producing a fidget spinner, through to actively supporting the work on our new biotope. Joint team excursions are also a regular feature. The new training year traditionally starts with a joint barbecue evening. There's also a series of training sessions as a fixed part of the training, including test preparation courses, product training, business etiquette seminars, presentation and rhetorical training, and team building courses. The joint Christmas party, which is organised by our apprentices themselves, is a great way to end the year. And every two years, our apprentices set out on several-day excursions with the dual studies students. Last year's excursion was to Wolfsburg, where we paid the VW factory and the phaeno science centre a visit. Other excursions have included the Technorama in Winterthur and the German Museum in Munich.
Projects and Team-Events
Training at GEZE is more than school and a workbench. We believe both in the creative ideas of each individual, and community spirit.
Teamwork
Our apprentices equipped a trailer with the young employees at THW. © GEZE GmbH
Project Work
Our construction mechanics are designing and building an emergency staircase on the GEZE production premises.
Trainings
Our apprentices at a team advanced training session in rhetoric and communication in the Seehaus beer garden.

Excursions
The PHAENO in Wolfsburg, which our apprentices visited in 2018, offers new trends in technology and extraordinary experimentation stations
Celebrating together
Our apprentices don't just meet regularly in the training workshop, they also get together at joint celebrations(for example, at the traditional barbecue evening here
GEZE identifies strongly with the topic of training - regardless of the changing general economic situation over the years. We have always trained and put above-average investment into our young employees.
Head of training
These figures speak for themselves
We currently have 38 apprentices at GEZE in Leonberg, ten of whom joined us in the autumn of 2019. Based on previous years, we can happily say that almost 100 % of our apprentices were offered permanent positions. And - believe it or not - our dropout rate is zero. These figures show us that we're clearly getting a lot of things right in the eyes of our apprentices. It makes us especially proud that many committed colleagues stay on with us after their training to do a Master's degree or a dual studies degree. We encourage our colleagues' development potential and endeavour to offer them the right positions for the new qualifications. Because it's our aim to work on the success of GEZE with our employees sustainably in the long term.
Best equipped for the competition for the greatest talents
It's no secret: there are currently more apprenticeships than applicants in Germany. This situation creates intensive competition for the best minds. Family businesses or listed groups - employers must be inventive if they want to attract apprentices. Of course, this applies to GEZE too - especially as the competition in the Stuttgart metropolitan area is particularly strong. That's why we're proud that we've succeeded in interesting young people year after year with our training offers. To maintain a peak position in the market as a family business, we need well-trained specialists who embody our values and love our products. With this in mind, we look forward to receiving plenty of interesting applications.