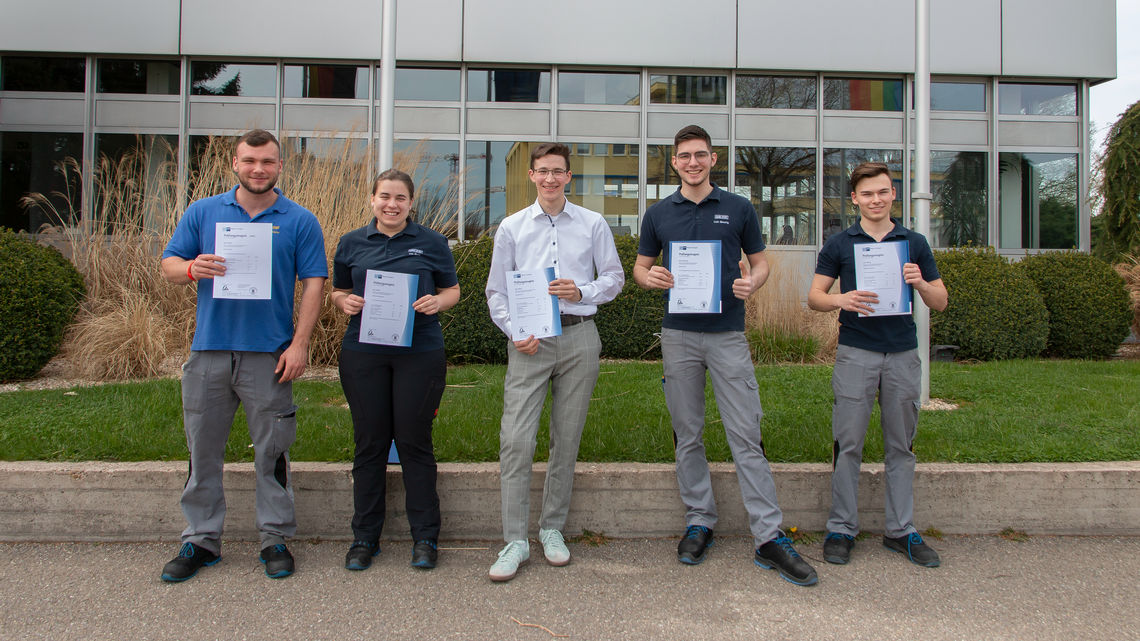 Congratulations: GEZE apprentices remain on track for success
We were so delighted to receive a certificate in March, which attested: "GEZE GmbH apprentices have achieved outstanding exam results in the final exams of the Chamber of Industry and Commerce (IHK) in winter 2021/2022." This year we are particularly pleased with this success – we were able to offer our apprentices optimal apprenticeships, despite challenging conditions during the Corona pandemic. Five of our girls and boys in the mechatronics and industrial mechanics sectors even achieved top grades, thereby placing them among the best in the region!
Apprenticeship under difficult circumstances
For everyone involved – both apprentices and trainers – the past two years have been rather extraordinary, with special challenges and tremendous constraints, both professionally and personally.
In many ways, completing an apprenticeship almost completely under pandemic conditions was harder than under normal circumstances. Thus, we are particularly proud of our junior staff's outstanding performance. These top performances would not have been possible without the full commitment and a great interaction between all those involved in the apprenticeship. You can rightly be proud of your achievements!
Rolf Böhmler, Head of Apprenticeship at GEZE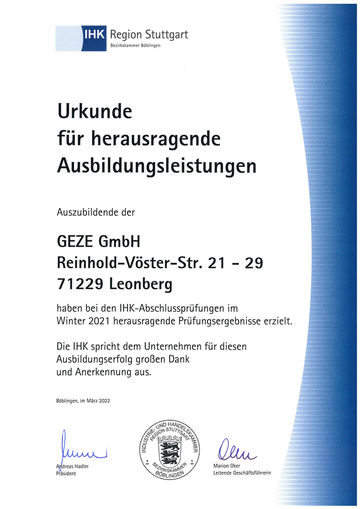 Certificate for outstanding apprenticeship performance
Tradition-conscious into the future
In its congratulatory letter, the Chamber of Industry and Commerce emphasises that GEZE provides excellent apprenticeships and encourages it to continue along this path in the future. For us, this goes without saying. We can look back on a tradition of training our own skilled workers in technical and commercial operations that spans more than 80 years. We still believe that young people find the best way into their professional life through a practically-oriented apprenticeship – and we would like to support them in this. In doing so, not only do we impart technical knowledge; our apprentices' personal development is also a matter close to our hearts. That we are successful in this, is confirmed time and again by the surveys of those involved.
Go to the article of the Trendence study "Fair Apprenticeship"
Interested in a future with GEZE?
Are you interested in completing an apprenticeship at a modern, family-run company? A company that also offers you attractive prospects for the future? We offer apprenticeship positions as industrial mechanics, mechatronics technicians and IT specialists, and train between 10 and 15 young men and women per apprenticeship year.
Current dates
Feel free to seize the opportunity to meet us in person at career fairs and events and to ask all the questions you might have.
We also invite you to follow us on our social media channels. This way, you will be informed in good time about new events and gain an insight into daily working life at GEZE.