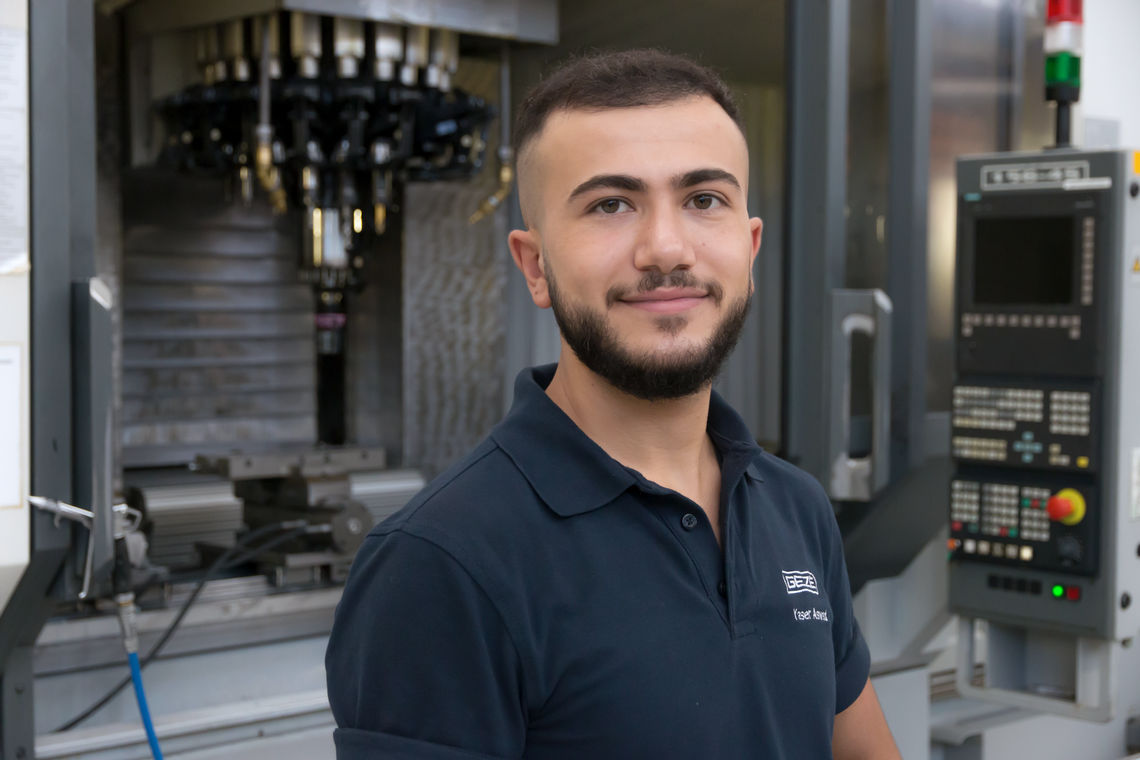 Facilitating integration with an apprenticeship at GEZE
As a family business, we feel particularly committed to promoting young skilled workers. We are all the more delighted that our outstanding training programme is also helping young refugees in Germany to integrate. Having fled Syria in 2015, first Rami Aswad, and now his brother Ahmad, have successfully completed their apprenticeship with us. We congratulate Ahmad on his success, and ourselves on gaining a new machine and systems operator!
On his brother's recommendation: Ahmad Aswad begins an apprenticeship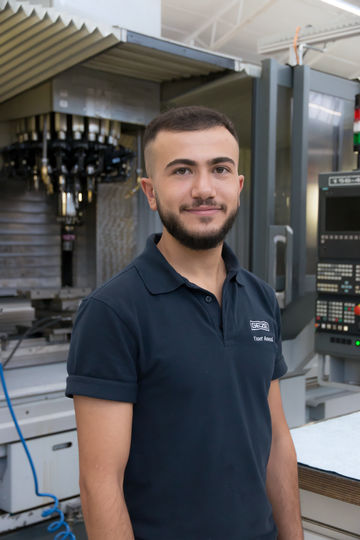 Ahmad Aswad © GEZE GmbH
In 2015, Ahmad Aswad fled Aleppo in Syria together with his brother Rami. Having sought refuge from the civil war, Ahmad was first placed in a 'reception camp'. He then looked for work with an exhibition stand builder. But the job and the employer failed to spark his interest. Despite his difficult experiences Ahmad, today aged 23, persevered, and applied for an apprenticeship to train as an electrician. It soon became clear that this path was not right for him either – and he decided to change direction again. A suggestion from his brother Rami, who had in the meantime completed his technical apprenticeship with us, came at the right time, and he applied to GEZE. A stroke of luck on both sides!
Before I applied to GEZE, my brother Rami had already begun an apprenticeship here. He was just as enthusiastic about the people here as about the content of the apprenticeship itself.
Ahmad Aswad, machine and systems operator
Fighting social disadvantage: Ahmad's success story
We have been joining forces for several years with the Stuttgart Chamber of Industry and Commerce and the employment agency to find work experience or an apprenticeship for refugees. At the heart of this is the "Integration through Training – Prospects for Refugees" project. To break down barriers, a six-month introductory qualification is offered: this gives these often very young people the opportunity to get a taste of the profession. And the potential training companies can see whether the applicant is a fit for the company The youngsters are also taught initial content of the apprenticeship – in the company and at vocational college. This facilitates a seamless transition to the apprenticeship. This was also the route that Ahmad Aswad took with us, and he soon got a realistic picture of the two-year apprenticeship to train as a machine and systems operator. He began the qualification phase in the autumn of 2018, and the apprenticeship in the summer of 2019. After passing the final exam in July 2021, he first worked as a technician on the counting machine which makes packaging bags. Today, Ahmad is responsible for many other tasks:
Ahmad is currently being trained as a setter in the Chiron area. He sets up and looks after three CNC machines there, as well as a deburring station, a column drill and a roller-burnishing machine. He allocates the machine operators, monitors the processes, and carries out minor maintenance work.
Achim Fischer, Team Lead Manufacture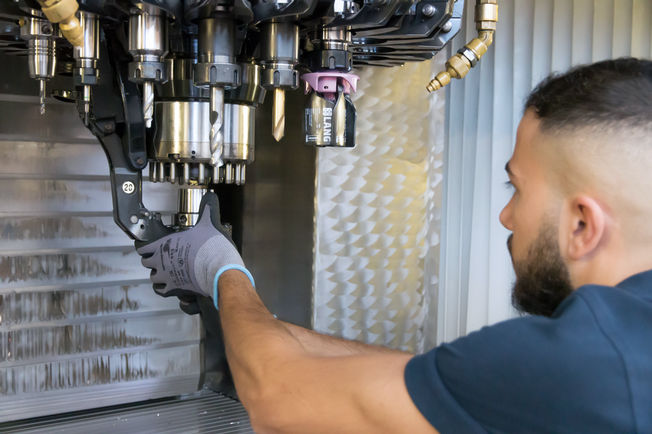 Ahmad's success story
Ahmad Aswad was able to get a realistic picture of the two-year apprenticeship as a machine and plant operator early on. © GEZE GmbH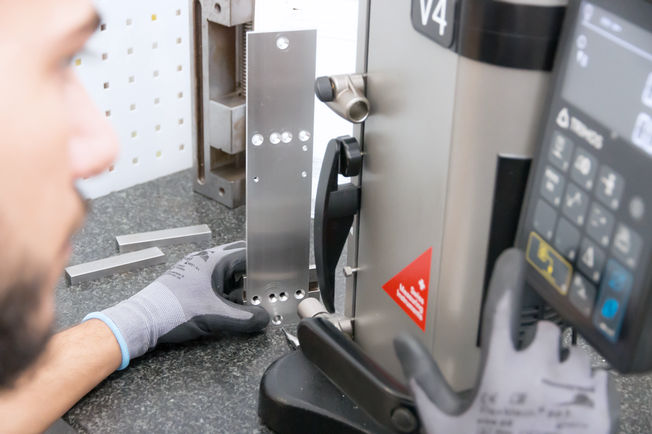 New tasks even after the training
He is currently being trained as a setter in the Chiron area. There he sets up and supervises three CNC machines, a deburring station, a pillar drilling machine and a roller burnishing machine. © GEZE GmbH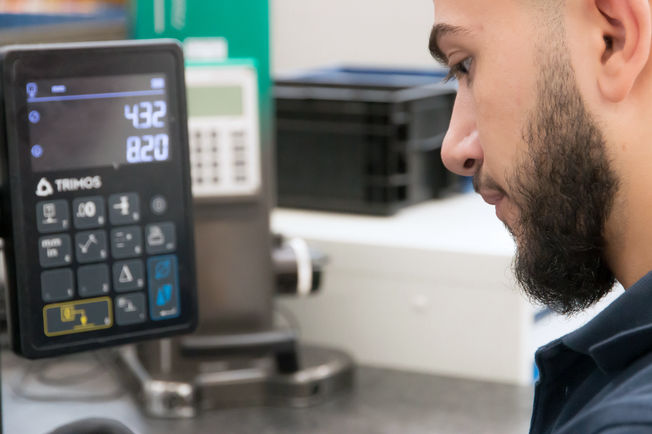 Diverse tasks
He assigns the machine operators, monitors the processes and carries out small maintenance tasks © GEZE GmbH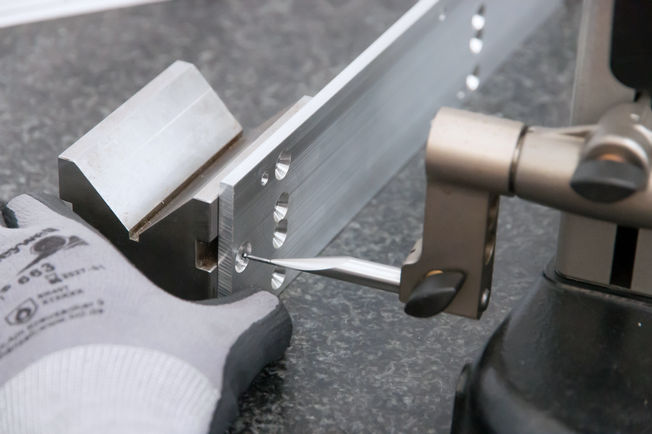 An eye for detail
Varied tasks ensure constant further training. © GEZE GmbH
The brothers share a talent for languages
To break down language barriers, Ahmad Aswad completed a work-based language course – with great success! Because like his brother Rami, the linguistically gifted Ahmad very quickly learned our language, and is now able to make an excellent contribution to the team.
Perfectly at home at work, in Leonberg and at GEZE
Despite fleeing as minors – and without their parents – Ahmad Aswad and his brother have built a new life in Germany. They have learned the language, and found job prospects here at GEZE. We are delighted that the two brothers immediately transitioned to the apprenticeship as a machine and systems operator following the introductory qualification – and that we were able to offer both Rami and Ahmad Aswad permanent positions. We generally aim to retain all our GEZE apprentices once they have completed their apprenticeship – and offer our young skilled workers a successful start to their careers.
MORE ABOUT OUR COMMITMENT TO SUPPORTING INTEGRATION