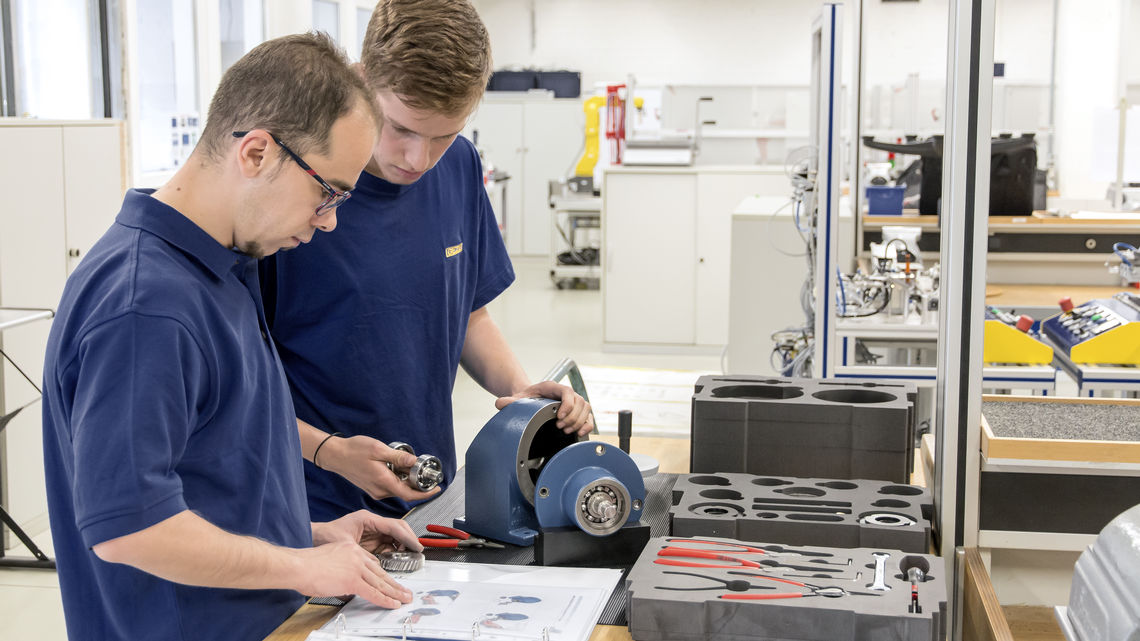 A Syrian refugee, welcomed by GEZE
We support the integration of refugees in Germany through a number of projects. As a result, Rami Aswad, a young man from Syria, successfully completed a technical apprenticeship with GEZE recently. We would like to congratulate him on reaching this important milestone towards a better future!
Rami Aswad and GEZE – a success story
When the very personable Syrian began his training as a machine and plant operator in September 2017, having completed a six-month introductory programme, hopes were high on both sides. Two years later, both Rami Aswad and his training instructor, Werner Weis, are able to report very positive results. "I have had the pleasure of working with an ambitious and eager trainee," enthuses Weis. And Rami Aswad adds: "I have really enjoyed my apprenticeship with GEZE, especially because of the focus on the practical side. School isn't really my thing – I prefer a more hands-on approach. At GEZE, I have been able to spend most of my time in the workshop, and have had the fortune of working with a great team. My colleagues are incredibly friendly and open-minded, which has also helped me to improve my German language skills. The equipment in the training workshop is excellent. Apprentices are assigned their own projects, and so quickly take responsibility for them. I think that's great!"
Throughout the entire apprenticeship, I was able to share his joy of having being given this opportunity. I thought that was amazing, and it made me more motivated.
Werner Weis, Training Instructor – Mechanics
The success story does not end there
"We are delighted to be able to offer Rami a permanent contract for when his apprenticeship ends. He will start working as a technician immediately," says Weis. The story was very different at the beginning. Rami Aswad would have preferred to join GEZE without having to complete an apprenticeship, to earn money for his family as quickly as possible. Fortunately, training manager Rolf Böhmler was able to convince the young man to make a "detour". Thanks to this intervention, Rami Aswad's work at GEZE has been pioneering, as he is the first apprentice to have been involved the integration project. "We think it's remarkable that his brother is going to follow in his footsteps and become a GEZE apprentice. It's a fine example of successful integration support," says Werner Weis proudly.
Rami Aswad's road to GEZE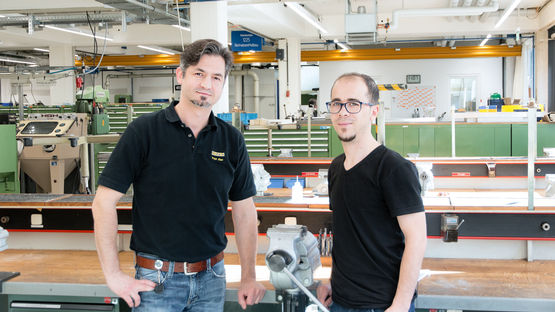 Rami Aswad in the superbly equipped training workshop. © GEZE GmbH
Such a positive outcome seemed a long way off in 2015, when the civil war forced the then 26-year-old Syrian to leave his native Aleppo. Like many of his fellow countrymen, he fled Syria for Türkiye. From there, he continued his escape on foot. About a month later, he reached Hungary. He was stranded there for ten days, before he was finally able to travel to Germany. Rami Aswad obtained a temporary visa, and completed several language courses. He also registered with the Chamber of Industry and Commerce, the IHK, in Stuttgart in the hope of finding a job as quickly as possible. And then, in 2017, it happened: Rami Aswad was accepted by GEZE. His future could begin.
I learned standard German in my language lessons. But at work and at college, the language sounded completely different! Luckily, my peers and the training instructor helped me out.
Rami Aswad, a brand new GEZE technician
Creating opportunities for the socially disadvantaged
As a family business, we have always been committed to the region and its people, regardless of where they come from. Together with the IHK Stuttgart, we offer internships and apprenticeships for motivated people, as part of the "Integration Through Training – Prospects for Refugees" project. The training is specially adapted to the needs of each refugee, and begins with a six-month introductory programme at GEZE's site in Leonberg, which Rami Aswad also completed.
On the one hand, this initiative enables us to actively support the integration of refugees; and on the other hand, it results in amazing "win-win situations." New colleagues become important, urgently-needed specialists, who also enrich our teams with their cultural background and experience.
Find out more about our commitment to supporting integration
Strong prospects, with GEZE commercial training
According to the latest DIHK Labour Market Report, 49% of 23,000 companies surveyed are unable to fill vacancies for the long term. This is a growing trend. This figure alone shows that solid training, like that offered by GEZE, opens up outstanding opportunities for kick-starting a professional career. What's more, it is not uncommon for vocational training to provide stronger protection against unemployment than a degree does.
With its dual training approach, GEZE offers the best framework for those who prefer a more practical way of working. In fact, apprentices spend around 70% of their training time in the workshop. They work independently from an early stage, and receive support from the trainer and their fellow apprentices. Only approximately 30% of the training time is spent in the classroom at a vocational school. After minimum two years (max. three and a half years), the apprenticeship ends with a final exam. After that, nothing can stand in the way of a successful career. This will hopefully start at GEZE, because we usually offer our apprentices permanent contracts.