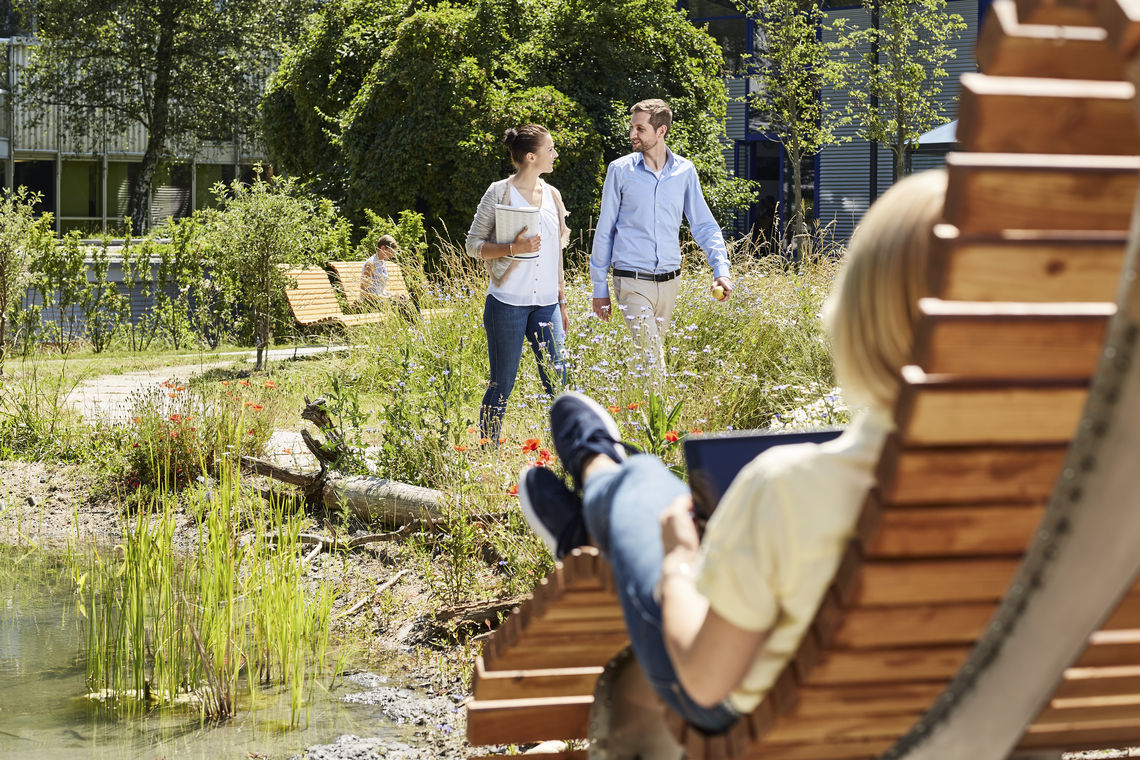 Environmental protection demonstrated at GEZE
Where would we be without our apprentices? They once again demonstrated their creativity again and supported work on our new biotope. A great place to enjoy some peace and quiet whilst recharging your batteries. It also provides bees and other insects with nesting places and food. This helps us to maintain the ecological balance - whilst also creating space for fresh air and for our employees to relax.
A Christmas present with consequences
Several years ago, our apprentices presented Brigitte Vöster-Alber with an insect hotel they had made themselves. The notion of providing insects with a protected area free of pesticides was something we thought was so great, that this led to a recreational area for people and animals alike. Our apprentices also joined in: with professional assistance, they transformed the outdoor area of the new development centre into a living area with habitats and nesting aids for beneficial insects.
Two bee and insect hotels form part of the new biotope, as well as a pond with reeds and shrubs along with nourishing plants for bees. Rare trees and bushes also have a place here and help to create an attractive ecosystem.
We are therefore playing an active part in protecting threatened insects such as wild bees. As a result, we have eliminated pesticides and monotonous lawns. A wild flower meadow, blossoming bushes, and shrubs provide nourishment. A walking trail also provides employees with a space for relaxed breaks in the fresh air.
Sustainability and environmental protection have always been important at GEZE - both in our production as well as in all aspects of day-to-day work. Redesigning our outdoor area also enables us to provide useful insects with a new home.
Brigitte Vöster-Alber
Impressions from our biotope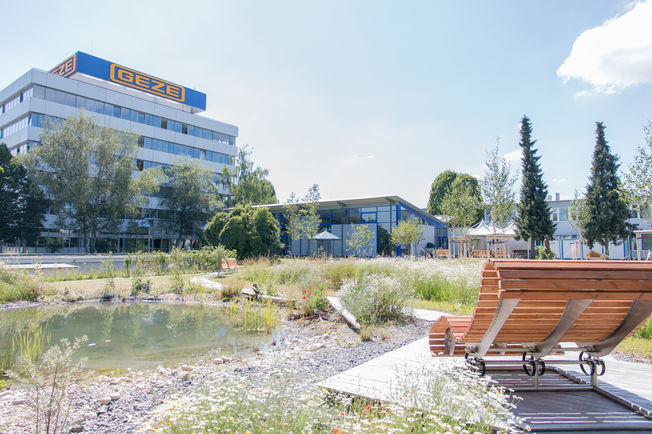 It's almost like being on the beach
Yet another good idea from our GEZE apprentice workshop: setting up a small biotope with a bee hotel in our outdoor area.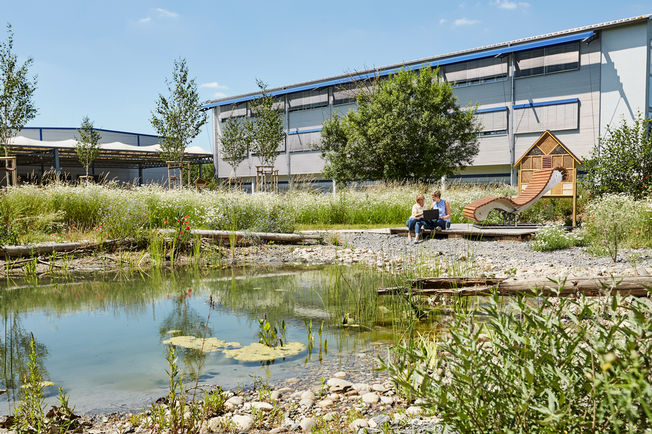 Pond with reeds
The GEZE biotope is ideal for relaxed breaks in the fresh air for our staff at the Leonberg site. Photo: Karin Fiedler for GEZE
The bee hotel
The facility provides a new habitat for bees, bumblebees and other insects threatened with extinction, in bee and insect hotels.